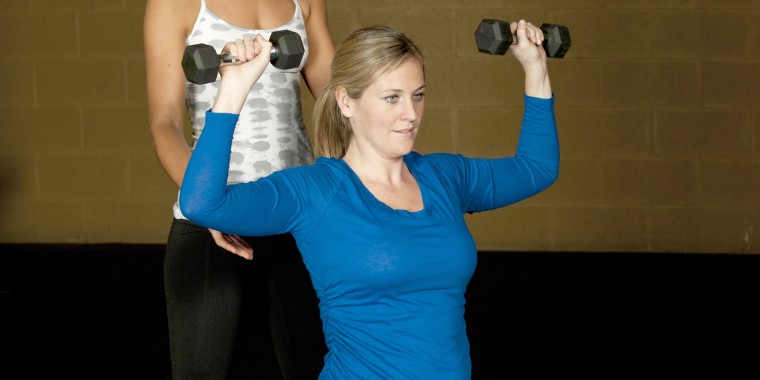 Ready to loose pounds?
Most weight loss goals fail due to lack of motivation, boredom and lack of knowledge on nutrition and exercise suggestion. Exercising under my guidance is the most effective way to achieve your specific exercise related goals.
I come with built-in motivation. Not only are you investing money into your exercise program, you're investing time as well. There's nothing like a standing appointment to get your butt in gear for a workout. A lot of exercisers tend to slack off on workouts sometimes, especially when things get tough. I can motivate you to push past those self-imposed limits, encouraging you to lift heavier, go longer and challenge yourself more than you would on your own. You'll find it's very hard to slack off when I am standing over you, telling you to do just…one…more…rep!
If you are looking to lose weight nutrition is very important. I will take a detailed look at your diet and offer ways to change. I will never put you on a faddy diet, just a healthy eating plan of Calories in vs. Calories out!!!!
I can bring a fresh perspective and new ideas to challenge both your body and mind and add variety to your workout to stop boredom like using Kettlebells or Boxing.
The knowledge of how to set up a balanced schedule that includes all the activities you need to do can be confusing. The great thing about me is that I can help you maximize your time while helping you stay within your own limits so you don't overdo it. I will also help you set goals and map out a specific schedule so you know when, how and where you'll fit in your workouts.
If you have any specific health issues like arthritis, heart disease, injuries, etc., working with me an experienced trainer, can help you find a program to help with the control of an illness and help to heal injuries and avoid any further problems. It's also a great idea to work with me if you're pregnant and want a safe, effective workout to keep you healthy and fit without harming the baby!
I provide a no-obligation, free personal training consultation. This will give us the opportunity to meet each other to discuss your personal training elements such as health, fitness and lifestyle aims and objectives. I will be able to discuss with you how your personal training sessions will be structured to help you achieve these goals.
As your Personal Trainer I will adjust your sessions on a regular basis which will ensure your body is challenged, which in turn will produce more effective and quicker results for you!
For your FREE no-obligation personal training consultation give me a call on 07958 442 382 or email me on info@body-torque.com